Anna Roberts-Gevalt and Elizabeth LaPrelle met in 2010 and soon began planning adventures together.
Anna and Elizabeth use all the creative tools they can think of: storytelling, research, fiddle, banjo, guitar, ballads, puppets, poetry, and moving scrolls called "crankies". Check them out at www.annaandelizabeth.com.
They are trying to engage themselves and their audience with traditional art in all the forms it can take—from canning to woodcuts, quilting to singing, to better express the rich stories this region has to share.
Lella Todd Crankie:

Lost Gander Crankie:

Lord Bateman Crankie:

The visual aspect of their performances somewhat limits the size of venue they can use; intimacy is a plus for this act!
Anna and Elizabeth have created two "crankie shows", received with great enthusiasm from Seattle to Baltimore to Lexington, Kentucky:
Snow is on the Ground (January 2010/ February 2011)
"Snow Is On The Ground" is a new kind of traditional music performance. It weaves traditional ballads and songs, fiddle & banjo tunes with storytelling and with handcrafted images & pieces of theater— marionettes, shadow-puppets, woodcuts, collage, and sewn scrolls called "crankies."
The performance centers on the theme of winter in Appalachia—stories of the cold weather today & in times gone by, and those songs, stories and good cheer that help us survive the chill."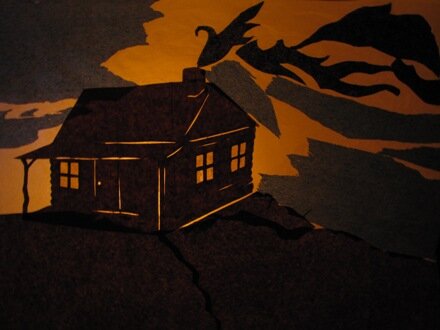 Snow On The Ground, an article by Gabe Popkin
Music Around the Home (November 2011-January 2012)
"Anna and Elizabeth draw each song, tune, story, and poem from one of three women: Addie Graham, a Kentucky singer of ballads, blues, and hymns; Texas Gladden of Virginia, singer of old "love songs"; and Lella Todd, fiddler from Clay City, Kentucky. They bring new life to the resonant music of artists who made music primarily off-stage, in their homes, for their families and communities."

Anna and Elizabeth's facebook page:
http://www.facebook.com/annaandelizabeth
Anna Roberts-Gevalt's website:
http://www.annarobertsgevalt.com/
Anna and Elizabeth's Elementary School info sheet
Quotes about Anna and Elizabeth and the crankies:
"That looks…uh…interesting" -Security Guard at the Smithsonian Museum
"In all my eighty-four years, I've never seen such talent!" -resident at Warm Hearth retirement home
"Anna and Elizabeth are blazing a trail of exciting, community-building Folk Music. They've found a way to make these songs come to life for young folks, old folks, and medium folks. I doubt there's a more creative, vibrant, passionate duo sharing their joy with the world right now."
Caleb Stine, Baltimore Songwriter & Actor
Anna and Elizabeth also do the Floyd Radio Show together once a month.
(top photo of Elizabeth and Anna by Mike Melnyk)